Size
You might assume that you should just buy the same size slipper that you wear in shoes, but it's important to make sure that the slippers aren't too tight and don't push your feet into an uncomfortable position. If you're unsure how a certain pair of slippers will fit, it's best to go up a size to make sure that they're as comfortable as possible. Because you will usually only wear your slippers in the house, you don't have to worry if the fit is a little loose.
Material
You'll find men's slippers made from a variety of materials, including cotton, suede, microfiber, polyester, and leather.  Some styles are lined with another material like fleece or sheepskin for added insulation.
Cotton and microfiber are often the best choice for slippers because they're breathable, so your feet won't get sweaty. If you're looking for slippers specifically to keep your feet warm, choose a style with a fleece, shearling, or plush lining.
Type
For most men, choosing a type of slipper is a matter of personal preference. However, some individuals may have physical issues that make certain styles better than others.
Back pain: Elderly men and those with back issues usually prefer slippers that don't require bending to put on and take off. Open-back and closed-back slippers are usually their best bet. While slipper sandals don't require bending to put on, they usually don't offer enough structure to make walking easier for senior citizens and men with injuries.
Wide feet: If you have wide feet, sandal slippers can be a good option because they give you more room in the footbed to avoid pinching.
Cold feet: For those who are primarily concerned about warmth, bootie slippers are the way to go because they provide the most coverage. Booties are often lined to keep your feet even warmer.
Diabetes: Men who have diabetes should chose a structured closed-toe slipper to protect their feet from injuries that may worsen diabetic nerve pain.
Cushioning
For men's slippers to be as comfortable as possible, they should have proper cushioning. It provides support for the sole of your foot and helps keep your feet warm, too.
Some slipper footbeds are lined with memory foam to provide effective cushioning. Other styles feature footbeds made of wool to offer comfort and protection for the foot.
Sole
The sole of your slippers plays an important role in preventing slips and falls around the house. Look for a style with a non-skid sole. You should avoid slippers with a completely smooth rubber sole because it won't provide enough traction when you're walking on slick flooring like hardwood or tile.
If you want to wear your slippers outside to take out the garbage or perform other quick chores, look for a sole that's specifically designed for indoor/outdoor use. In most cases, they'll have a thicker, textured sole that allows for more protection and traction when you're walking outdoors.
Tips
Men's cotton slippers are often machine washable. Check the label to be sure. It's usually best to wash them on the warm cycle and allow them to air dry.
If your slippers start to smell, sprinkle some baking soda across the footbed to absorb any odors.
If you're taking a long flight, throw your slippers into your carry-on bag so you can wear them on the plane for added comfort.
To keep your slippers in good condition, don't wear them outdoors for prolonged periods of time. Even indoor/outdoor styles can be damaged if you regularly do more than get the mail or take out the trash in them.
Even if your slippers are designed for outdoor wear, it's a good idea to treat them with a waterproofing spray to help them last as long as possible.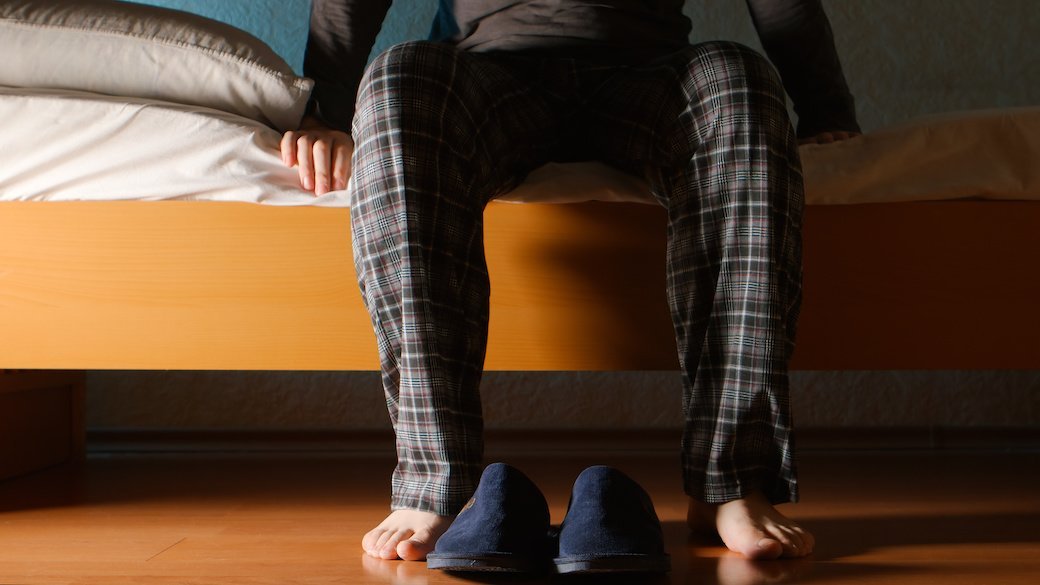 Walking barefoot on hard flooring is especially tough on the feet first thing in the morning. Keep your slippers right beside the bed so you can put them on as soon as you wake up.