Playing football, climbing trees and getting up to mischief are all typical activities for a little boy that's just found his feet. But with the mischief comes the prospect of buying boys shoes and it can be a real minefield, especially when you know they need to be rugged and dependable to keep up. But what is it that your boy needs exactly? What size should you buy? What about width? There are lots of questions you might ask yourself, particularly if it's your little man's first pair of proper shoes.
The key area of focus when buying boys shoes is the size and fitting. It's imperative that you get the fit of shoes right to ensure good foot health as your little lad grows.
There are a number of factors that add up to a suitable pair of shoes, here we're going to take a look at how to fit boys shoes and things to look out for in your little one.
How Do Boys Sizes Work?
Kids sizes are somewhat more complicated than adult sizes, so the first step to buying your boy the correct fitting shoes is understanding the sizes available and what they mean.
No two boys have exactly the same shape feet, so it's important to look at the all-round shape of the foot to ensure the best possible fit. There a number of different sizes and width fittings available for this reason. It's important to remember that the bones in children's feet aren't fully grown until around 18 years of age, which means that their feet can easily become misshapen if wearing unsuitable footwear. Shoes that are too wide or too narrow can do as much damage to your boys feet as shoes that are too short or too long, so correctly fitted footwear is essential.
Boys shoes much like girls shoes, are available in different width fittings as well as half sizes, this allows you to get the sizing absolutely right for your little one's feet. You must however be aware that not all sizes will mean the same thing. Not all shoes available will come with UK sizes so it can be quite easy to get confused. The best thing to do in this kind of situation is to use a shoe size conversion chart, ensuring the perfect fit for your little one.
Boy Shoe Size Charts: Measurements, Age & Conversion Chart
Below is a list of the standard sizes available for children, the foot length measurements that correspond to each size and the size conversions between UK, USA and European sizes:
| UK | EU | Heel to Toe Length (Inches) | Heel to Toe Length (cm) |
| --- | --- | --- | --- |
| 4 | 20.5 | 5.78 | 14.7 |
| 5 | 21.5 | 6.06 | 15.4 |
| 6 | 23 | 6.33 | 16.1 |
| 7 | 24 | 6.61 | 16.8 |
| 8 | 25.5 | 6.88 | 17.5 |
| 9 | 27 | 7.16 | 18.2 |
| 10 | 28 | 7.44 | 18.9 |
| 11 | 29 | 7.71 | 19.6 |
| 12 | 30.5 | 7.99 | 20.3 |
| 13 | 32 | 8.26 | 21 |
| 1 | 33 | 8.54 | 21.7 |
| 2 | 34.5 | 8.81 | 22.4 |
| 3 | 35.5 | 9.2 | 23.1 |
| 4 | 37 | 9.4 | 23.9 |
| 5 | 38 | 9.72 | 24.7 |
| 6 | 39.5 | 10 | 25.4 |
Often, boys feet grow faster than girls feet so buying new shoes can seem like a constant battle at times. When your little guy is between the ages of one and three, it's not uncommon to see feet grow as much as 1.5mm to 2mm each month, equating to more than an inch growth in a year! This does however slow as they get older with 1mm of growth per month typical for boy between three and six years old.
Due to rapid growth, it is recommended that you measure your little boy's feet every six weeks between the ages of one and three, then every three months between the ages of three and 10. It's likely that he will need two or three new pairs of shoes a year to keep up. As they'll be worn for most of their childhood, this is particularly important when buying boys school shoes.
Below you'll find an approximate age guide for each size:
Average Shoe Sizes
| Age | Size |
| --- | --- |
| Up to 1 | 3-4 |
| 2 | 5-6 |
| 3 | 7-8 |
| 4 | 9-10 |
| 5 | 10-11 |
| 6 | 11-12 |
| 7 | 12-13 |
| 8-9 | 1-2 |
| 10-11 | 3-4 |
These aren't however set in stone and every child varies, so it's always best to get their feet properly measured.
Update his wardrobe with some new footwear! Shop Now
How to Determine Boys Shoe Size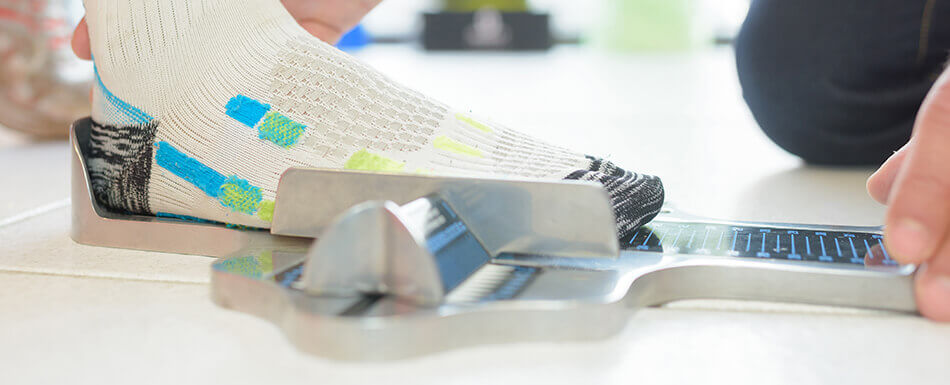 Young boys shoes don't differ to young girls, however as they get older and shoe sizes increase, they do come with a slightly wider fit as standard. In the UK, kids shoes come in a variety of width fittings to accommodate many types of feet. The widths range from C to I, C being the narrowest and I being the widest. Most children will fit in an F which is the industry standard, G and H widths are also fairly popular.
You can determine boys shoe size with a few simple steps:
Take a ruler, a pen and a piece of paper.
Take the piece of paper and secure it to the floor with sticky tape.
Place your boys foot on it and gently press down to make sure the foot is flat and no toes are curled.
Draw a small line behind his heel and another in front of his longest toe.
Measure the distance between the lines in centimetres.
Use the shoe size conversion chart to determine the size needed.
In addition to following these steps, also remember the following:
Add one finger width of room in the shoes so your little one has space to wiggle their toes.
Always measure both feet. It's quite common to have one foot slightly larger than the other. Always use the measurement for the larger foot.
If the shoes you intend to buy are to be worn with socks, make sure to include them when measuring.
Boys Shoes: Checking The Fit
Working out the size for your little lads shoes is only half of the job as the measurements will only tell you what size to buy, checking they fit correctly is extremely important too. Different styles of shoe will fit differently and it could be that the particular style of shoe chosen for your boy is a little too narrow, or slightly too wide. Following these few simple steps should help:
Whilst sitting, lift one foot and hold the ankle with one hand, grip the heel of the shoe with the other hand and pull down gently to check that the heel grips correctly. Repeat with the other foot.
When standing, use your finger to feel around the top of the shoe, ensure there are no gaps between the heel and the shoe.
Also check around the ankle bone, if the shoe doesn't have a padded collar and it touches the ankle bone, it could cause issues.
Feel around the top of each shoe for the end of your boys longest toe. There should be about one finger width of wiggle room at the end.
Feel along the sides of each shoe, there should be no pressure points or bulging. The widest part of the foot should sit in the widest part of the shoe.
Rub your thumb across the top of the shoe, there should be a slight ripple movement in the shoe. If there shoe doesn't move, they could be too tight. If on the other hand you can create a ridge in the shoe due to excess space, they could be too narrow.
Ask your boy to walk up and down. He should be able to walk easily and naturally without issue. Check that the heel doesn't slip and there shouldn't be any excessive gapping at the side
Don't be tempted to leave extra room in your little lads shoes. Doing this could cause problems with walking and when he's bounding around doing what boys do, a good non-slip, securely fitted pair of shoes are of the utmost importance!
Conclusion
Making sure your boy has a dependable pair of shoes is essential, using our fitting guide you can make sure that he's comfortable, stylish and ready to take on the world.
You Know His Size, Now Treat His Feet!
Now your shoe size savvy, treat his feet to a pair of shoes from our boys footwear range!Shop Now