When it comes to dress shoes, there are many different styles.
All it takes is just one google search to get the entire list. However, simply knowing about these styles isn't enough to understand how to wear them appropriately.
Loafers are casual.
A pair of monk strap shoes are great for business casual but can also be worn with suits.
Oxfords should not be worn with anything other than suits. Or, can they? (Answer: yes, you can)
If you look beneath the surface – you'll find a whole lot of questions like these. The one we're tackling today is major – and that is the difference between oxfords and brogues, and whether to choose a pair of oxfords or brogues for a particular occasion
Oxfords and brogues are not exclusive from each other. Brogue isn't a shoe style in itself but instead refers to any style of shoes that have decorative holes or perforations on them. So – oxford shoes can be brogues as well.
Plain oxford shoes will be appropriate and stylish for any formal event, while oxfords with broguing are great choices for business casual and some formal dress codes. The formality of oxford brogues will be decided by the level of detailing that is present – lesser the broguing, dressier the shoe.
Similarly, derby brogues are less formal than oxfords and oxford brogues and so will be best worn with smart casual pants like chinos or jeans.
In the rest of the post, we'll get into more detail about these shoes and different situations you can wear them in.
What Are Oxford Shoes?
So what exactly does the oxford shoe style mean?
Oxford shoes are the most formal when compared to all the other shoe styles, but the biggest point of distinction is its closed lacing system. This denotes the manner in which the eyelets and laces are attached to the shoe, which in the case of oxfords, is "closed off"
To put in simple words, this means that the two parts of the shoe that have the eyelets cannot be moved up or down like flaps (like derbys, which we cover later on)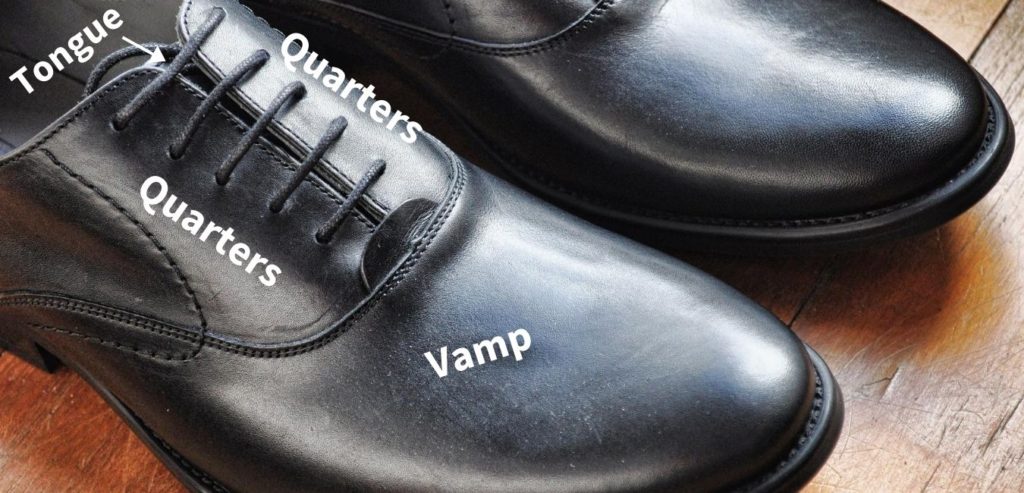 In technical terms, this means that in an oxford shoe – the vamp always goes above the quarters, and the tongue is a separate piece that is attached onto the vamp
Oxford shoes will most commonly have either five or six pairs of eyelets, depending on the region they are made in
Different Types Of Oxfords
A lot of details can be added to or removed from a pair of shoes – which leads to different types within the same shoe style
For oxfords, the different types are mainly three: Cap-toe, Plain-toe, and Whole-cut. Although there are slight differences between them in terms of formality, any of these three types are appropriate enough for any formal occasion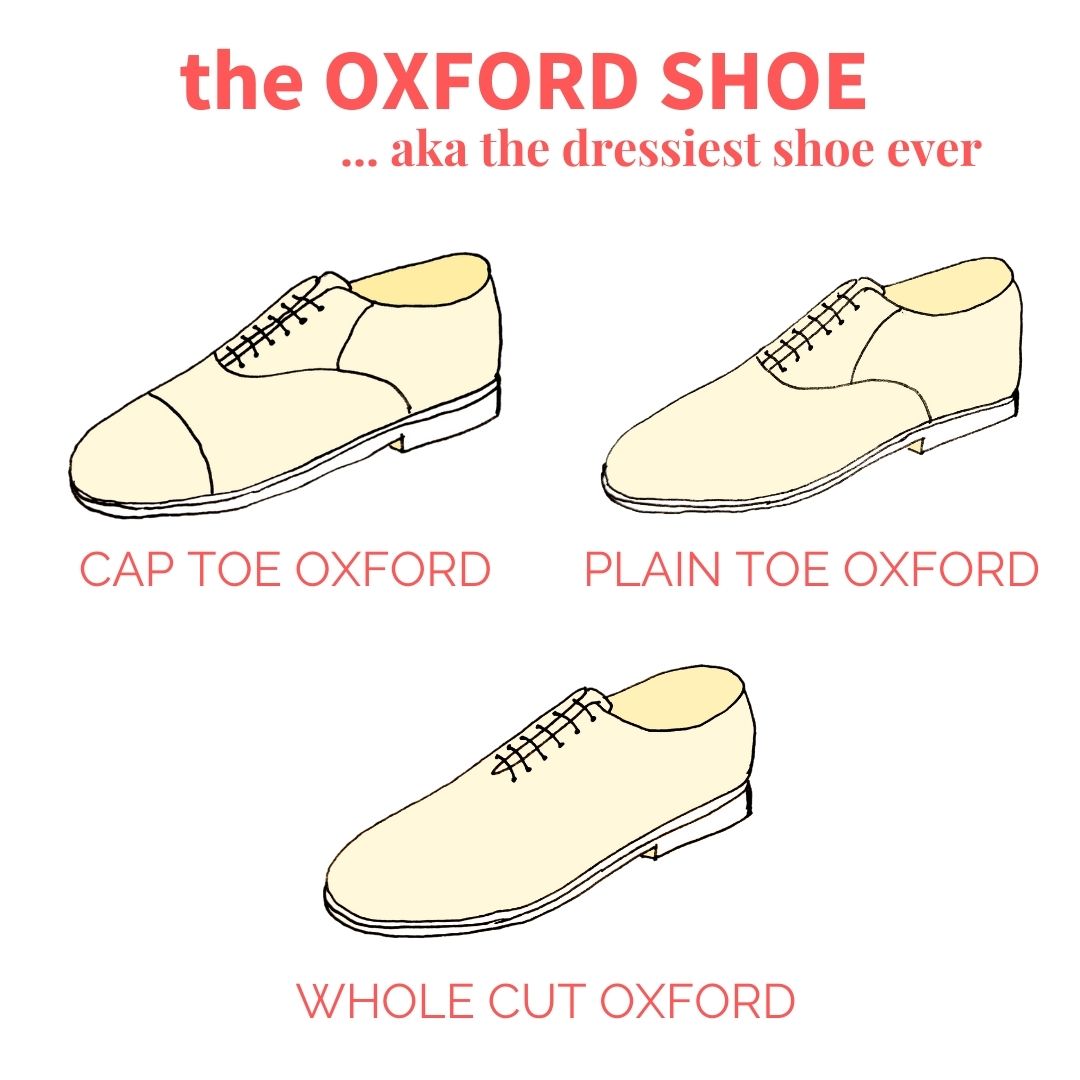 Cap-toe Oxford
Cap toe oxfords can be identified by the presence of a round cap over the toe area of the shoe. To make this, a different piece of leather is stitched to the end of the vamp giving it the distinctive cap shape
Cap-toe or not is usually a matter of personal taste. I find cap-toe oxfords more interesting so I tend to go for them when buying new shoes
Plain-toe Oxford
In plain-toe oxfords, there is no separate toe part – the vamp and the toe area is a single piece of leather
Following the less-is-more definition, plain-toe oxfords are often said to be more formal than cap-toe oxfords.
And while I generally agree with that – in my opinion, the toe is not a major point of difference and both these oxford shoe types can still be worn interchangeably. As mentioned earlier, it depends more on your preference than the level of formality itself
Whole-cut Oxford
Whole cut oxfords have no quarters, no vamp, and no heel counters. The entire shoe is made of a single piece of leather, which also makes the design of this particular oxford very clean and sleek
This sleekness is what many people like about this shoe – it is very difficult to go wrong with a pair of whole cut oxfords!
Whole cut oxfords are also the dressiest of all the three oxford types, and are best reserved for the most formal occasions like black-tie
What Is A Derby Shoe?
Wait, you wanted to know about oxfords or brogues – Where does a derby come into the picture?
Well, it is important to our discussion, and a few paragraphs down you'll understand how
Like oxfords, derby shoes are laced shoes as well, but they have an open lacing system. The vamp and the tongue are a single piece of material, and here the quarters are sewn over the vamp instead.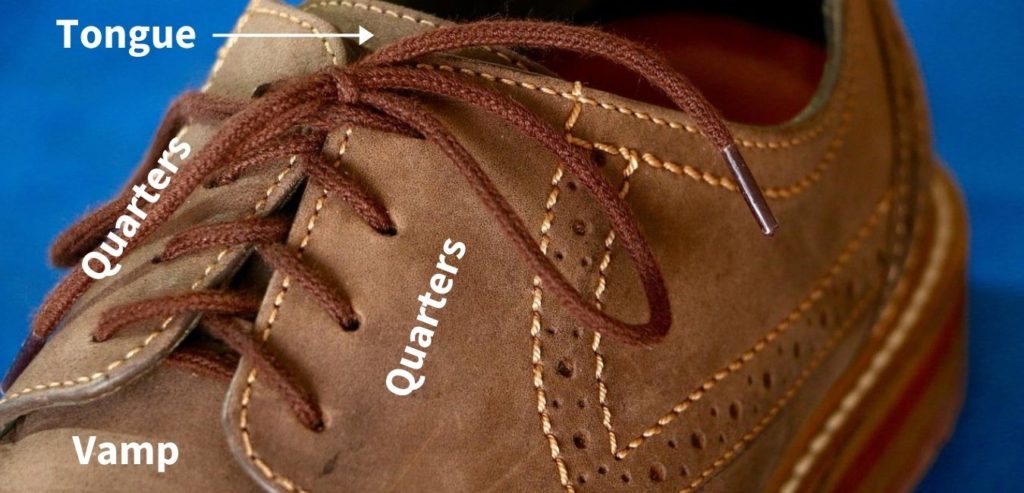 Before I started learning and collecting shoes, this was perhaps the only style of formal shoes I knew – because it's so commonly seen everywhere.
Derbys are easy to put on and adjust due to the flap-like quarters. Because the laces are open, you can also see the 'V' like shape that's formed by the quarters when viewed from the top
However, derbys are less formal than oxford shoes
What Are Brogues?
Here we are – the mighty brogues!
Brogues are often a topic of much discussion in the menswear forums. Men (and many women too) all around the world enjoy wearing their brogues, and rightly so.
But you'd be surprised to hear that brogues aren't actually a separate style of shoe.
What makes a shoe a brogue, then?
Those holes that you see in some dress shoes – they are the defining feature of a brogue shoe. Broguing refers to the art of engraving patterns and designs on the shoe in the form of tiny holes or perforations. These perforations originally had a functional purpose but now they are purely decorative. Any shoe, that has broguing present can be referred to as a brogue shoe
So, oxfords and brogues are not separate. Sure, you can have oxfords without any broguing, but there are also oxford brogues.
Since broguing can be done any style of shoe, it's more of an umbrella term spanning across multiple shoe styles. Oxfords and Derbys are the most common shoe styles that have broguing, though, and these are the ones we're focusing on in this post
Different Types Of Brogues
Depending on the extent of broguing, brogue shoes are of 4 different types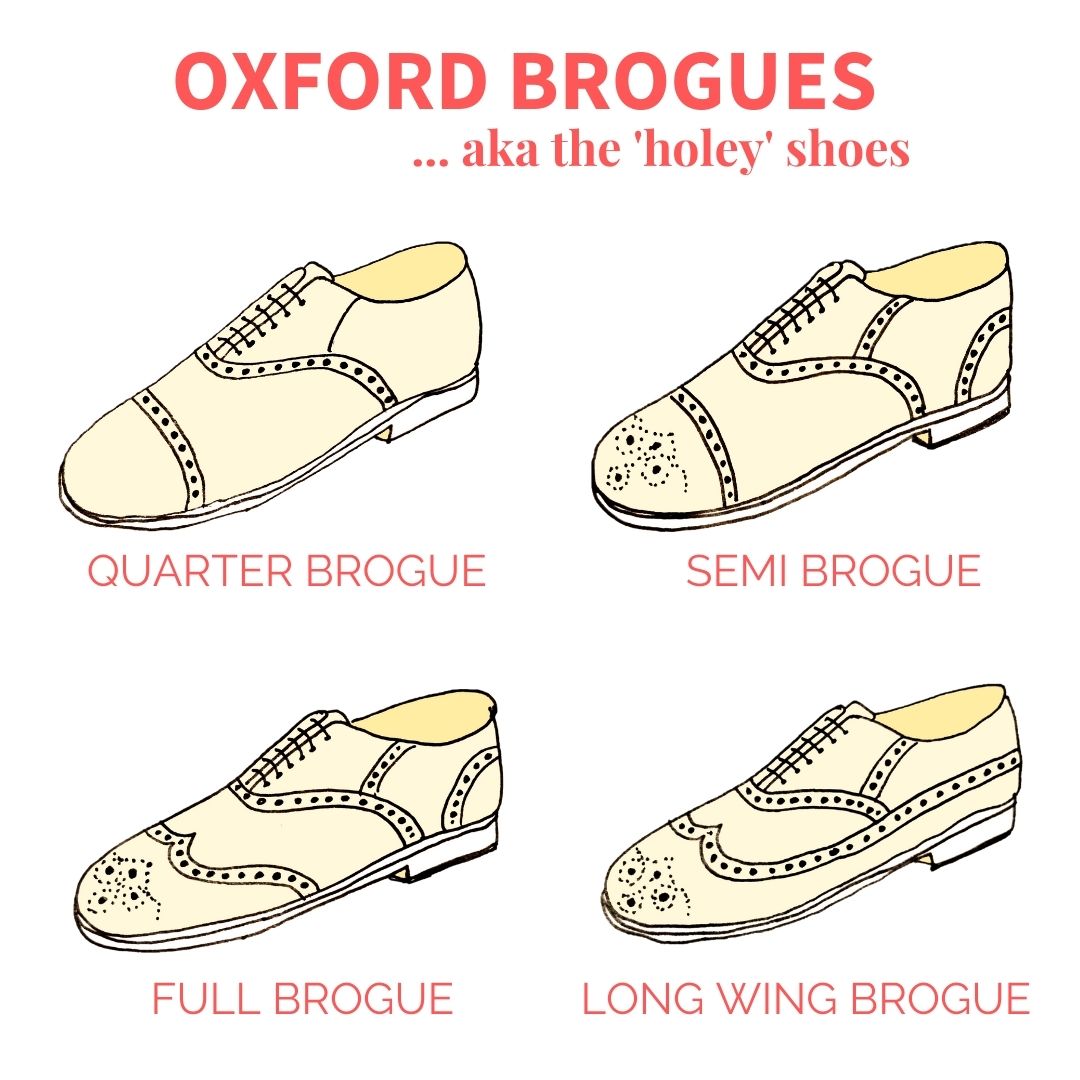 Full Brogues (or Wingtips)
A full brogue will have perforations along every seam of the shoe, with a toe shape that resembles a curved 'M' or 'W'. It is for this reason that full brogues are also referred to as wingtips
Such shoes will also have a medallion: an attractive design made up of perforations on the toebox of the shoe. The design of the medallion is often a great way to show off the creativity of its maker
Menswear style rules say that the higher the extent of broguing, the more casual the shoe. By those standards, a wingtip brogue will always be the least dressy shoe of all brogue types
Semi Brogues (or Half Brogues)
Half brogues are the same as wingtips – but with a cap toe instead of the wingtip toe.
Broguing is done on the seam of the cap as well, and half brogues will also have a medallion design on the toes
The cap toe makes semi brogues one notch dressier than wingtips, but for most occasions, both of these types can be worn interchangeably. These are my favourite kind of brogues as they offer a variety of opportunities to dress up or down
Quarter Brogues
Quarter brogues have no medallion design, and broguing is present only the seam of the cap toe
These are the most formal of all brogues, and the right choice if you want to wear brogues with suits
Longwing Brogues
In Wingtips, the W toe shape ends at the sides. But for Longwing brogues, it extends all along the shoe to the back where it ends at the center seam
Needless to say, these are just as casual as full brogues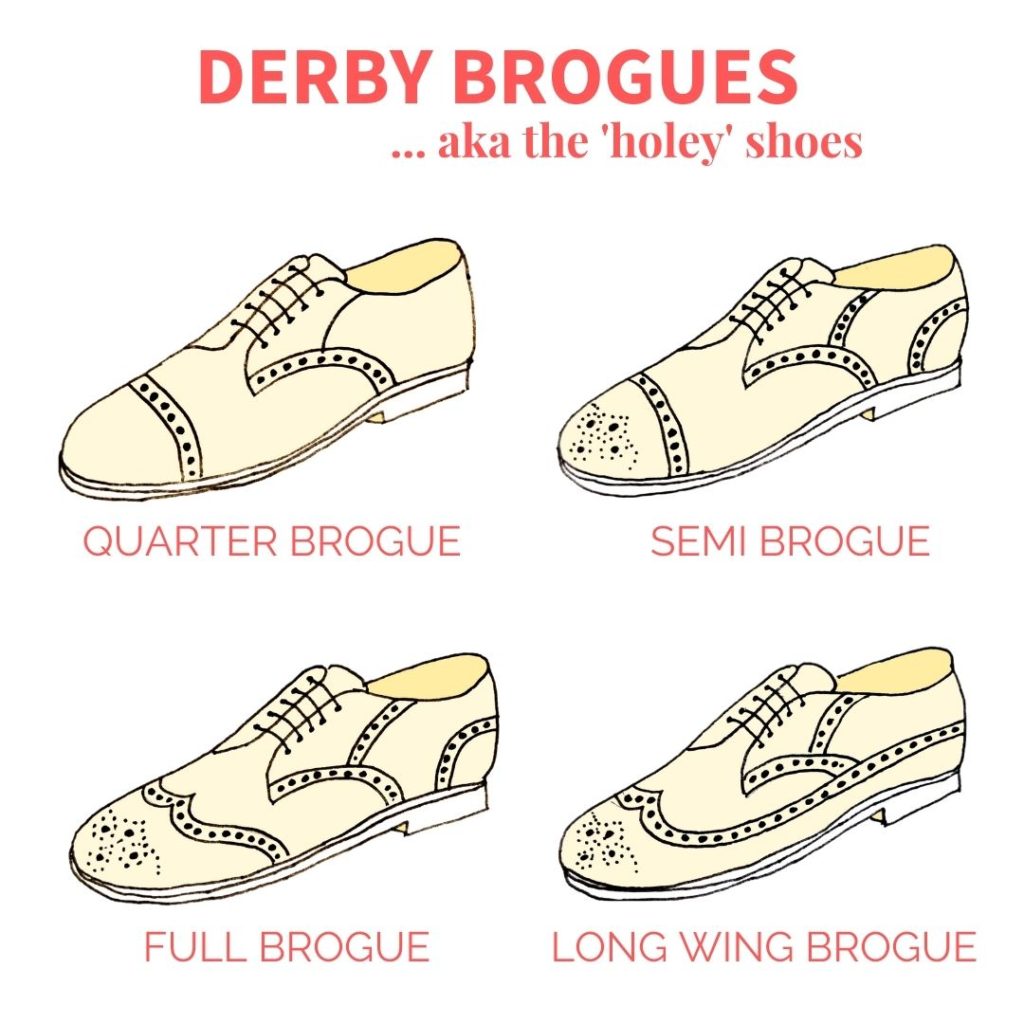 Oxfords Not Brogues: The Kingsman word of advice
Now that the difference between oxfords and brogues is clear, I thought I'd take a short detour to briefly talk about these three famous words from the Kingsman movie: "Oxfords, Not Brogues"
(Side note: This movie is brilliant, isn't it?! If you haven't seen it yet, I'd strongly recommend you to leave everything and go watch it!)
So – Brogues and Oxfords aren't mutually exclusive. Why then does the dapper-as-ever Harry say to choose one over the other?
Wait, did he and entire team of the movie get it wrong?!
Well, you can't say. There are a lot of menswear blogs that have discussed what the line could've meant. I think Harry was just playing it safe. When it comes to classic men's style, fewer details mean more formal: and if you go by that rule brogues don't seem appropriate for dressed-up outfits like full suits
It's a rule that's broken over and again these days, though. You can totally wear brogues with suits too, if you're intentional about it
And that's what this next section is about
Oxfords Or Brogues: What To Wear When
The below sections list the clothing pieces that work well with the various types of oxfords and brogues.
For the sake of simplicity in this article – oxfords refer to oxford shoes that have no broguing, and brogues are either oxfords or derbys with different types of broguing
Whole Cut Oxfords
Whole cuts will be the dressiest shoes in your closet, and you can wear them for all formal outfits.
Think of black tie events, weddings, funerals, formal parties, and even office meetings.
Be it a tuxedo, full suit, or just a pair of formal dress pants – whole cut oxford shoes will work with them. Personally, I think these shoes pair the best with some kind of formal jacket though. Their clean look and aesthetic demands that the rest of your outfit is also completely dressed up and on point
Plain Toe / Cap Toe Oxfords
Plain toe or Cap toe oxford shoes will be slightly forgiving than whole cut oxfords, and you can still wear them with all your formal outfits
I'd avoid wearing these shoes with chinos or jeans. There are better choices if you want to dress down – no matter how much you try these shoes by design will always be a highly dressy shoe
Stick with dark colours like black, brown, or oxblood. They will match with most suit colours and dress pants
Oxford Quarter Brogues
If you don't regularly wear a tuxedo (I think most people don't), then quarter brogued oxfords are a great place to start keeping both versatility and style in mind
These shoes are still formal though, so it would be wise to stay away from lighter colours or casual pants
Given a choice between plain and quarter brogued oxfords, I'll choose the quarter brogues every time. The broguing on the toe cap gives the shoe an interesting look, without letting it stray too far towards the casual side
Oxford Semi-Brogues
The type of oxford shoe every man must own? Yes sir, it's this one.
Except for black-tie outfits like a tuxedo, oxford semi brogues can be worn with almost every type of pants (shorts and cargo pants don't even count, duh)
Pair them with a daytime suit for a business casual look, or head to that wedding dressed up in your best dark suit. Chinos and jeans are okay too! Because these shoes work with a variety of outfits – choosing the right colour is key here as it will help set the overall tone of your outfit.
Like always – do remember: dark is dressy, light is not.
Are you sold on these shoes already, or need I convince some more?
Oxford Wingtips
Amongst oxfords, wingtips are the least dressy shoe and that is why you shouldn't wear them with formal suits
For an event in the day, these shoes will still work fine, but with dark colours (or dark tan, if the occasion is casual)
These are the shoes Harry wouldn't want you to wear 
They do look killer with a pair of jeans, though 
Derby Quarter Brogues
Take a derby and add some broguing – and you automatically get a casual shoe, despite the level of detailing
It's for the same reason that these shoes are best reserved for chinos and jeans – and at times with dress pants
Can you wear Derby Quarter Brogues with a suit?
In the right colour, I think you can, provided the dress code is not too strict. But these type of shoes will always be less formal than their oxford counterparts
Derby Semi Brogues
While you could still get away with wearing quarter brogue derbys with a suit, semi-brogues are a no go for formal outfits
But they really shine in the business-casual/smart-casual section. If you tend to dress more casually otherwise or for work, then you must have at least one of these in your closed.
They will add an extra edge and sharpness to your outfits.
Derby Wingtips
The most casual brogues? Yes, these are the ones!
Derby Wingtips are my favourite pair of shoes for jeans. It.looks.so.good.
I have a Good Year Welted pair in tan colour, and I wear those shoes all the time with my jeans and chinos. Since you're likely to be wearing these casually anyway, the colour is not a problem. Go crazy (but only if you want to)!
When It's Decision Time, Keep The Style In Mind
Choosing between oxfords or brogues doesn't have to be complicated.
If you stick to the overall dress code and understand the style of shoes you're wearing, you should do just fine. Derby brogues will be casual, while oxford brogues are great for a number of formal and business-casual outfits depending on the extent of broguing on the shoes
Don't like broguing on your oxfords? That is cool too.