These are the 5 factors that decide whether a pair of shoes are formal or casual:
Structure
The first major difference between formal and casual shoes is their structure. Structure means the way the shoes are built, their shape and the overall look
As formal shoes are meant for (obviously) formal occasions, they are compact and sleek in shape. Formality requires shoes to be presentable but not overbearing.
Dressy shoes should also share traits with other dressy clothing items like suits, pants, and shirts – sharp lines and clean edges – so that the overall outfit is much more harmonious and cohesive
To achieve this, dress shoes are constructed over wooden lasts that are specially made to mimic a foot, giving us the streamlined structures that look great and match all other formal wear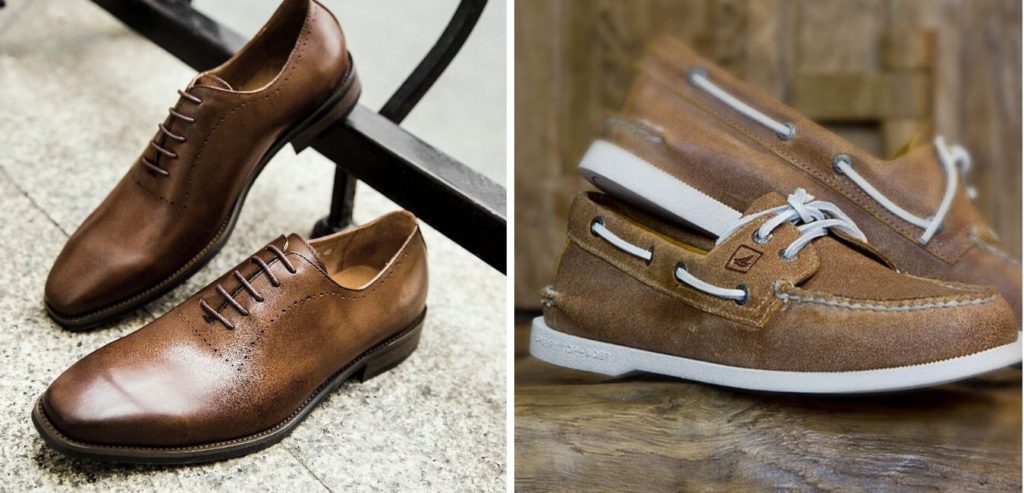 You must've seen those famous Italian shoes – the chiseled toe and the narrow shape is what makes them such a favourite among sartorial enthusiasts
Contrast this with casual shoes like Sneakers and Espadrilles, which tend to be bulkier in shape with less structure.
Boat shoes are a great example – with a little extra room for comfort around the toes and the soft shape that gives off the perfect relaxed vibe. Just like dress shoes complement formal wear, the soft features of casual shoes complement casual outfits
Lacing and Number of Eyelets
Checking the shoelaces is another method of separating formal and casual shoes. Typically, formal shoes will have thin and round waxed cotton shoelaces to keep up with the subtle look, while casual shoes have thicker laces that may be flat or round
Some people do put on flat laces on formal shoes. While it is indeed okay to do that, it's the exception and not the norm.
Besides, flat laces that are sold for formal shoes will still be thinner than those used on casual shoes – simply because the eyelets are smaller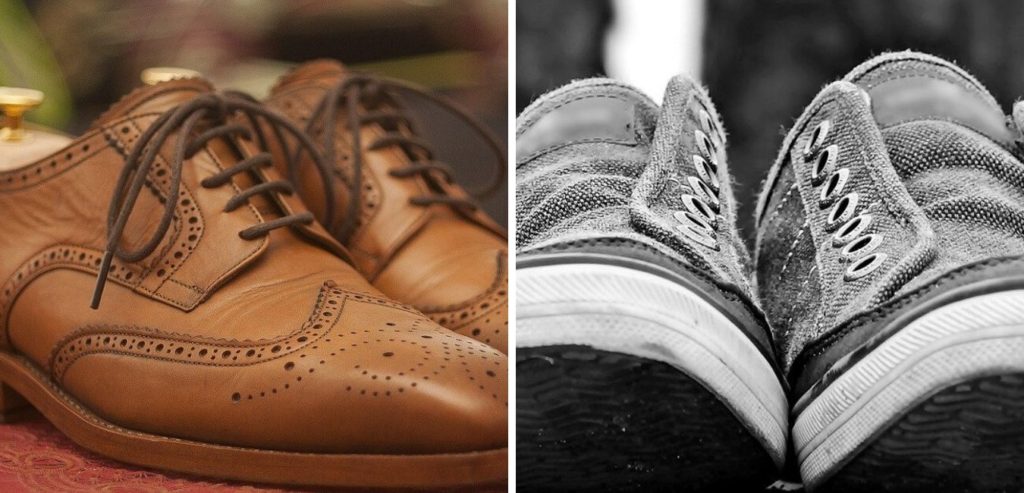 Talking about eyelets, their number makes a difference in the formality as well. Formal shoes usually have 5-6 pairs of eyelets (when laced) but for casual shoes there is no general trend
Some casual shoes like Chukka boots and boat shoes have 2-3 eyelet pairs, whereas sneakers and boots may have 6 or more pairs of eyelets.
On both formal and casual sides, we also have shoes with no lacing system – Loafers, Chelsea boots, Espadrilles, etc. In this case, the rest of the tips can be referred to consider them in the right group
Material
Formal shoes will be made only out of leather. Faux leather or Vegan leather works too – as long it is leather or looks like leather and satisfies all the other criteria you can say that the shoes are formal 
Many shoes come in suede as well. Although suede is made from leather, in my opinion, its texture makes it lean towards the casual side.
I wouldn't wear a pair of suede loafers or brogues with formal pants; I'd rather match them with denim or dress it down further with shorts
Casual shoes could be either in fabric, leather, or some variation of leather (suede / nubuck). Shoes like sneakers, when made in leather, can move up the formality scale (still on the casual side though)
Colour
Dress shoes come in dark colours, most of the bright and vibrant shades are reserved for casual shoes
The reasoning behind this is the same – we need formal shoes to be subtle while still being presentable.
Common colour options for formal shoes are black, medium to dark brown and oxblood. Light brown / Tan is a debatable – personally I love a good tan colour on shoe and would still consider it as a formal shoe, although a little lower on the spectrum after all the dark colours
On the other hand, casual shoes can get as vibrant as possible. There are oranges, blues, yellows, reds, turquoises; the list of colours is endless. I own a pair of dark red sneakers and they're one of my favourites – would totally recommend you to have a fun colour in your shoe closet to mix it up
And yes, dark colours work for casual shoes as well. Black sneakers are a famous example loved by so many people. Navy blue suede Chukka boots are another great choice for a casual shoe in a darker shade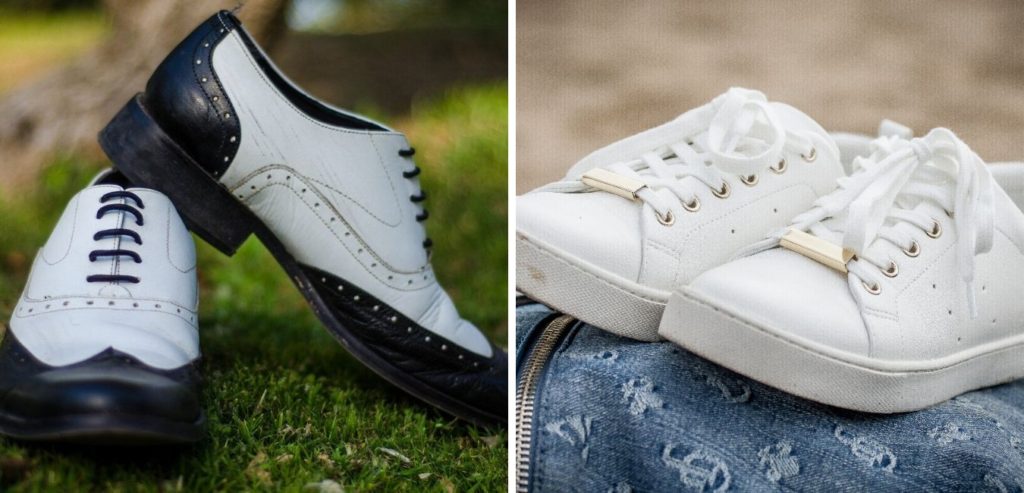 The colour white deserves a special mention in this section – spectator shoes are two-toned formal shoes that are iconic for the dark – white combination.
When used on its own though, white is a casual colour – cue classic white sneakers
Soles
Just like the upper material, traditionally formal shoes will have leather soles while casual shoes have rubber soles
This is not a distinct point of difference though i.e. All formal shoe styles listed in the above table can also be made with rubber soles. Usually, the choice of sole material depends on other factors like durability, comfort, weather resistance, etc.
However, one constant and clear difference I've found between dress shoes and casual shoes is the type and look of sole rather than its material.
Formal shoes almost always will have a separate heel part on the sole, whereas casual shoes have flat soles (or with a slight heel drop, but not a clear heel part)
Chukka boots and other casual boots are the exceptions here as their soles can, at times, be similar to that of dress shoes
The soles differ in the width as well. Thicker and chunkier soles are more common for casual shoes and formal shoes will have thinner soles. In fact, shoemakers even try to make the part of the sole that extends beyond the sides as thin as possible
[BONUS] Shoes That Work As Both Formal And Casual
By now you might've realized that even though there are clear differences between formal and casual shoes, there is some overlap as well.
This overlap gives way to a neutral zone of sorts where some shoes could either be casual or formal based on the rest of the outfit.
It is interesting to see how this versatility comes into play. if you take the less formal dress shoes and the dressier casual shoes and combine them, you get another group of shoes that can work for both situations
Obviously, they won't be appropriate for black tie or other super formal events. But otherwise, you could use this to your advantage 
Here are some options:
Tan Wingtip Derbies
The tan colour and wingtip brogueing moves these shoes closer to the lower end on the formal side.
Pair them with dark denim or chinos – Blue goes wonderfully with tan and is my favourite combination
Or wear these with dress pants with a tucked in dress shirt during the day to have the perfect balanced look of relaxed but professional
White Sneakers
Ah, White Sneakers are such a classic.
I realized the true potential of white sneakers only recently; once I got over the initial overwhelm (due to the stark contrast of white with other colours) I've been using them more and more
If you could only have one sneaker for life, it should be white
Wear these with any casual outfit – including shorts – white goes with everything
Or show-off your trendy side by wearing white sneakers and a t-shirt with a blazer to dress it down. I haven't tried this look yet so I don't have any opinions on it, but the idea definitely seems interesting
Leather Penny Loafers
Another classic. If you could only have one loafer for life, then…… you know what I mean 
Note that I have mentioned leather loafers and not seude. Suede Penny Loafers, although gorgeous, may not go with many work outfits
Leather, on the other hand, will obviously match well with dress pants. And for those casual times, go for that sockless look and rock these with a pair of jeans or chinos
Understand The Rules, Then Go Break Them
Style rules are laid out to guide us when confused, so it is important to completely understand these differences first.
With a good working knowledge of which shoes can be categorized as formal or casual, you can then begin to experiment with what you like.
You'll never know if it works unless you've tried it; some of the most inspirational style bloggers I follow have recommended breaking the rules once in a while (only if you know what you're doing)