There's a vast variety of shoe styles for women, each with their own identity and history. Female footwear styles are well known for being desirable and beautiful as well as being functional. The wide array of women's shoe styles can sometimes leave us a little confused as to what's what, and when certain women's shoe types should be worn.
Of course, there are certain ladies shoe styles that are more appropriate and practical for different situations, and certain styles of shoes will suit particular situations or outfits more than others. Here's our guide to ladies casual shoes and dress shoes to help you figure out which styles of women's shoes you simply must have as part of your wardrobe!
Types Of Women's Casual Shoes
Here we're going to run through women's casual shoe styles. Casual shoes are fairly self-explanatory – these are female shoe types that you wear on a day to day basis. These are usually teamed with womens casual wear for a relaxed look. As some of us do tend to wear heels in the day time as well at the night time, there are also heels which might fall into the category of 'casual'. Comfier heels that are not too high, or wedges, might fall into this category due to them being far easier and more comfortable to wear (for added comfort, try adding some shoe insoles). Check out the most popular casual shoe types below: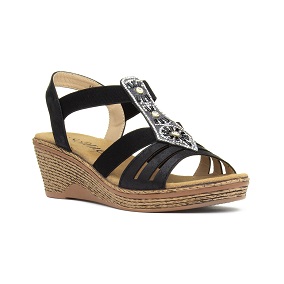 Wedges
A wedge heel can give an outfit a more polished look without actually having to wear excruciating heels. Wedges are far more comfortable to wear, especially a lower wedge.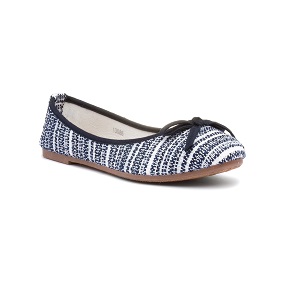 Ballerinas
A pretty and practical solution to casual, everyday footwear. Ballet pumps are a flat slipper type shoe that are an essential item to have in a wardrobe. Ballerinas are such a versatile shoe that come in every print, colour and pattern imaginable, from classic nude to wild animal prints and bright quirky colours.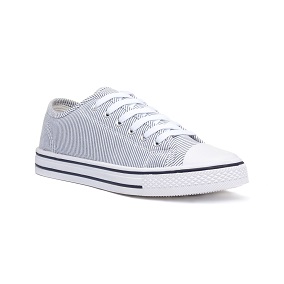 Lace Ups
Lace ups is a catch all term for any shoes that fastens with laces. They can be brogues, loafers, heels, ballerina pumps or any other shoe.
Lace up shoes tend to be slightly sturdier and can provide additional support for your feet, as well as providing an adjustable fastening that can be tightened or loosened to suit your feet.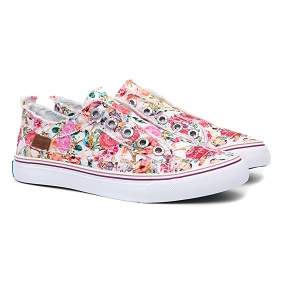 Canvas Shoes
Lightweight women's canvas shoes are slightly sportier looking than ballerina shoes, but they're an equally great choice for casual wear. They're comfy, practical and come in every colour and pattern so you can always find a pair that will match your outfit. They look great with jeans and a t-shirt for an easy and simple weekend outfit.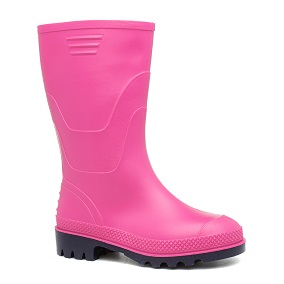 Wellington Boots
Traditionally known as Wellington Boots, a trusty pair of women's wellies are practical and stylish. Perfect for keeping dry in the winter, or for keeping warm and dry at a festival.
Wellies typically feature a thick, rubber boot and chunky sole to enable you to walk through muddy fields, and jump in puddles without ruining your shoes.
Gone are the days when wellies are dull and green, you can now keep your protected from the infamous British weather with boots that come in a vibrant range of patterns and colours. Wellies are best bought in a size up from the size you normally wear so you can wear thick socks underneath them without your wellies becoming too tight. We've answered your top questions about wellies over on the blog.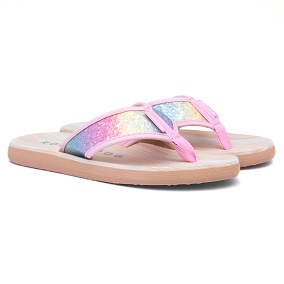 Flip Flops
The ultimate summer shoe, if you're heading to the beach or pool this summer then these are the perfect shoes to put in your beach bag.
Women's flip flops are generally made from a foam sole, with a plastic toe support in the middle. For a longer lasting style, opt for one made from leather. Very basic styles will have simple plastic straps, although you can get styles with pretty woven leather straps and finished with gems to add extra sparkle to your outfit.
Flip flops are super versatile and come in a range of patterns and colours so you can match them to any swimwear or outfit.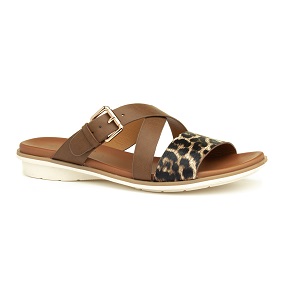 Mules
An open backed shoe with a closed front. Ladies mules are suitable for slipping on and off and generally far more casual than closed shoes but give more support than flip flops.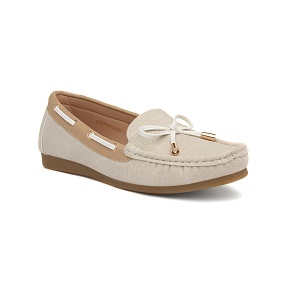 Loafers
A casual shoe that generally slips on, with elasticated panels on either sides negating the need for laces or fastenings.
Ladies loafers offer a classic style that adds vintage glamour to a daytime outfit or office wear. Find out more about loafers in our complete guide to loafers.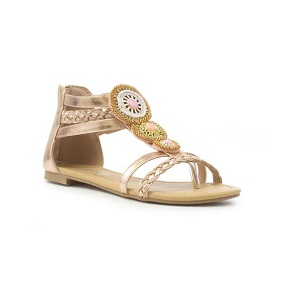 Gladiator sandals
A strappy sandal, with a T-bar running down the front. For optimum Grecian glamour, wear a pair of gladiator sandals with a maxi dress, there's something about gladiator sandals that work so well on holiday. Recently, heeled gladiator sandals have made a comeback on the catwalks and high street. A strappy sandal with a heel works well with tailored trousers or with office wear.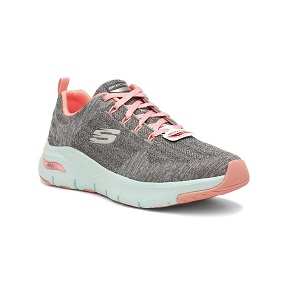 Trainers
Women's trainers are named so because they are designed to be used whilst training – while at the gym, or yoga, as well as for fashion wear. These are more supportive for your feet and comfier than any other shoe for exercising in, make sure you try these on before you buy them. It's vital you protect your feet with the right support and cushioning. Your legs, hips and knees will benefit from wearing decent trainers as well.
Fancy some new shoes?Shop Now
Types Of Womens Dress Shoes
Here's our dress shoe style guide. Dress shoes for women are a category of shoes that lend more sophistication and elegance to an outfit. 'Dress shoes' is a relatively old fashioned term and would be more likely to be called women's formal shoes, occasion shoes or simply party shoes today. Of course 'occasion shoes' are open to interpretation, but generally they are ladies shoe types that are more glamourous than every day shoes, with more embellishment or a higher heel. The different types of dress shoes you can choose from are explained below.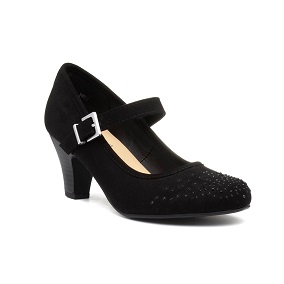 Heels
Heels are an obvious choice for evening or dress wear. There are a wide variety of different styles of heel, take a look at our guide to heels for more information.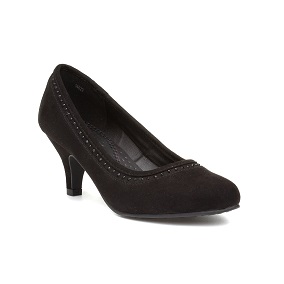 Court Shoes
Court shoes are a classic style that work well for a more formal event, such as a wedding or for business attire. Court shoes generally have a low line upper, which means that the top line of the shoe sits quite low down on the foot, they have medium height heel and a pointed toe. Find out more about court shoes in our detailed blog post.
Court shoes usually come in classic colours such as beige, black and brown, but more fashionable styles are more widely available now.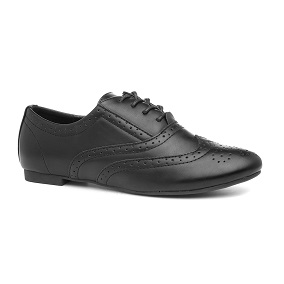 Brogues
Brogues aren't just for the men, and in recent years have become a major fashion staple for women. Women's brogues are as versatile as any flat shoe but have the advantage of looking more formal than ballerina flats. They add quirkiness to a summer dress by adding a masculine element to something feminine, and make a tailored office outfit look polished and traditional. Traditionally in brown or black leather, brogues can now be picked in various colours, patterns and heel heights. Read all about brogues over on the Shoes Corner blog.
Womens Boots
Womens boots are a practical choice through all seasons – from functional wellies to stylish ankle boots in a vibrant colour, there are boots to match any occasion, outfit or season.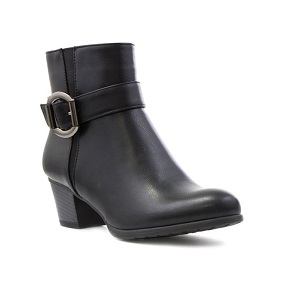 Ankle Boots
Ankle boots are exactly that – boots that reach your ankle. Investing in a good pair of ankle boots is always a good idea, they are a classic shape that transfer well from the office to everyday life. They look great with a pair of tailored trousers or with a summer dress, they are as versatile as they are stylish. They come in different styles – Chelsea boots and Pixie boots are popular styles. Chelsea boots usually have a flat top line, with an elasticated side panel. Pixie boots have cute pointed toes, like a pixie.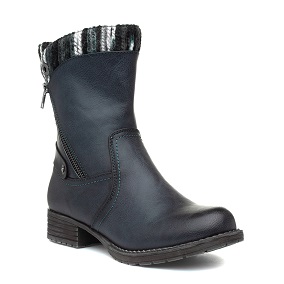 Calf Boots
Calf boots offer more coverage and are better for winter and colder spells. Calf length boots are best bought in a material that will last, especially if they're going to be worn mostly during winter. You need something that will survive the wet, cold and mud. Store these boots with supports in them to help them keep their shape and make sure they are well cleaned before they are out away for summer.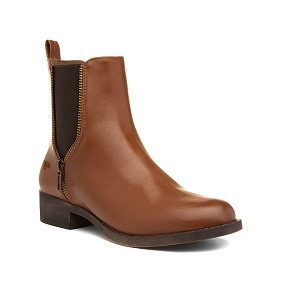 Chelsea Boots
Chelsea boots are close fitting, flat boots with an elasticated side panel. Yes, they are named after the affluent district of London. The design apparently first appeared in the 1850's and were Queen Victoria's walking shoe of choice, but they were made famous in the 1960's by the mods that hung around on Kings Road.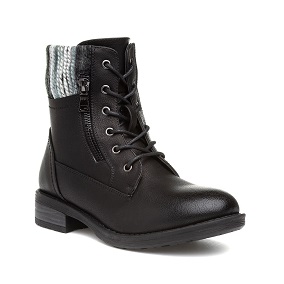 Military Boots
Obviously inspired by boots worn in the military, these are chunky, sturdy boots usually with laces at the front that reach all the way up. Military boots create a definitive look that adds a toughness to an outfit.